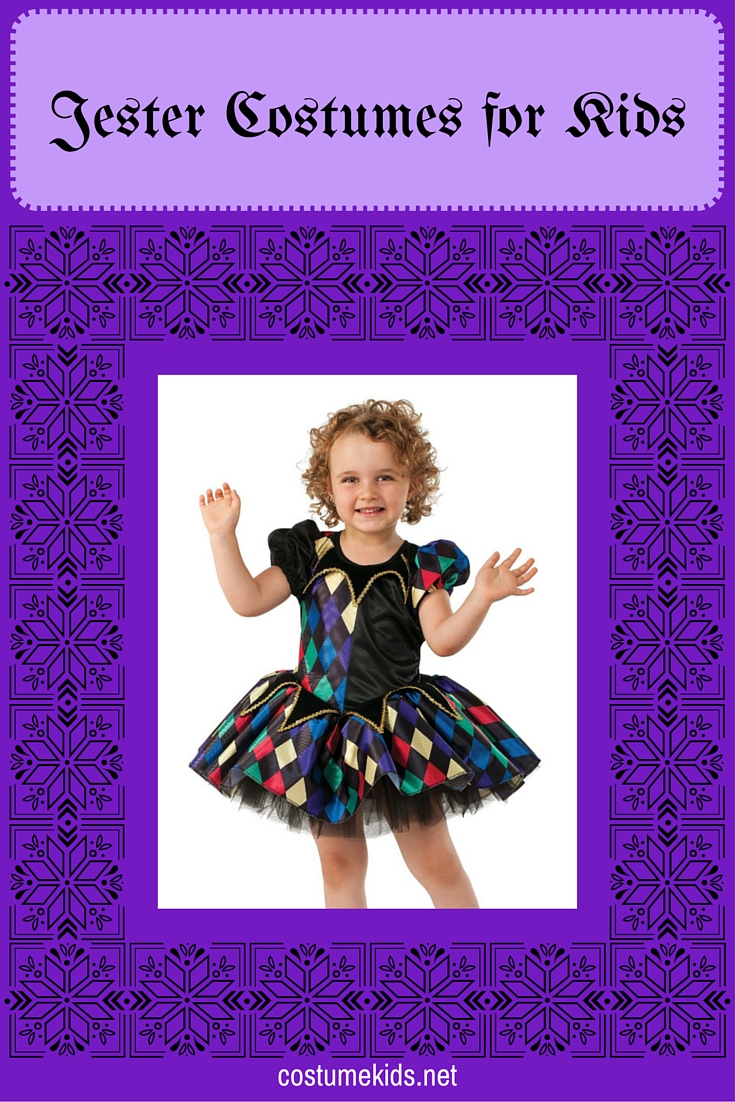 Getting dressed up in a costume is always fun for children and Mardi Gras presents the perfect occasion for dressing up. Kids can have fun wearing the traditional green, purple, and gold colors of Mardi Gras or a terrific harlequin pattern to join in the celebration. Here we look at some really cute Mardi Grad jester costumes for kids that are guaranteed to make the day special.
Little Jester Infant Baby Costume
For the tiniest Mardi Gras participants, this infant jester costume fits the bill. Available in sizes 12 to 18 months and 18 to 24 months, this costume includes a jumpsuit with belt, hood, and leg closures. Jester hooded hat is half blue and half diamond harlequin patterned. Colors of diamonds include purple, green, blue, black, and orange. Collar of hood is also half solid colored and half patterned, with jagged edges. Body of jumpsuit is a reverse pattern, with the solid color and patterned side on opposites sides of the hood, while below the waistline the pattern changes back to alternating sides again. Each end of jester hat has two red pom poms.
Lil' Jester Fool Renaissance Joker Costume
Toddler Junior Jester Costume
Let your toddler entertain you as a jester in this adorable outfit made from 100% polyester fabric and fiberfill stuffing. Costume includes jumpsuit, waist sash, and hat and is available in sizes 3T/4T and 4/6. Jumpsuit fastens at center back with Velcro and waist sash fastens with Velcro in the back. Jumpsuit has elastic ankles and wrists. Hood features stuffed horns with red pom pom tips. Half of costume is a lime green shade, while the other half is a colorful diamond harlequin print in the colors black, orange, green, purple, and red.
Lil' Jester Child Costume, Toddler
Looking for jester costumes for a little girl? This adorable jester dress is available in sizes toddler, small, and medium. Dress is part black with a colorful diamond harlequin pattern on one sleeve, half of bodice, and around the full skirt. Dress has a gold trimmed jester style collar and similar pattern around the waist. Diamond pattern is in the colors yellow, green, purple, black, yellow, and red. Has poofy short sleeves and tulle under layer of skirt for a poofy look.
Black and Purple Jester Kids Costume
This is one of the jester costumes without a diamond print, done in purple and black colors. Jester hat is half purple and half black, while collar, sleeves, bodice, and skirt sections all repeat the purple and back colors, alternating sides with each section. Available in sizes small, child medium, medium, and large. Costume includes a three quarters length tunic and hat in a crushed panne velvet material. Garment can be machine washed cold and tumble dried on low. Made from 100% polyester fabric.
Black and Purple Jester Kids Costume
Jester Girl Costume
This adorable black and purple dress jester costume comes in sizes 4 to 6, 6 to 8, and 8 to 10. Costume includes printed dress with bubble skirt, jester hat, tights, and wrist cuffs. Made from 100% polyester fabric. Hat is a headband style with small jester horns on top, one half purple and the other half black. Each end of hat has a white pom pom. Collar, bodice, and skirt of dress are alternating half purple and half black sections. Center of bodice has white diamond shaped accents. Bubble portion of skirt is white in color. Tights have one solid black leg and the other leg is done in a purple and black diamond shaped pattern.
Jester Costume Kids T-shirt
This tee shirt makes a great jester costume when combined with a fun jester hat. It is offered in several color options, with the purple color choice being the most appropriate for Mardi Gras jester costumes. Shirt has a colorful green and red diamond pattern on the front, and a printed green and red "collar". Made from 100% pre-shrunk cotton (some other color options have a slightly different fabric content), with tapered neck and shoulders for a great fit. Can be machine washed and tumble dried on low setting.
Deluxe Plush Jester Hat
This great hat is the perfect accessory for Mardi Gras jester costumes. Hat has three sections of horns in green, purple, and gold. Each horn has a bell attached to the end. Hat has a purple brim with gold accents. Combine with a jester costume or color coordinating tee shirt for a great Mardi Gras look for kids.
Plush Jester Hat Party Accessory

More Jester Kids' Costumes
Junior Jester Toddler Costume
Harlequin Honey Costume
Baby Doll Clown Costume
Baby Girls Mardi Gras Tutu Set
Mardi Gras Creeper Bodysuit
Toddler Gold Genie Shoes
Dottie the Clown Child Costume
Toddler Green Jester Costume Shoes
Toddler Black Jester Shoes
Simplicity Pattern 7120 Jester
Felt Jester Hat
Jokes On You! Child Costume
Children's Jolly Jester Costume
Jester Costume Kids T-shirt
Jester Costume Kids T-shirt
Orange/Black Evil Jester Costume
Butterick Bp232 Sewing Pattern Jester
(Visited 1,439 times, 1 visits today)